The Great Falls Race
Saturday, September 10, 2016
The festival's most dramatic and dazzling event is the Great Falls Race. This downriver race is a quick, adrenaline-packed descent of 60 vertical feet through the Potomac's spectacular Class V+ Great Falls. Watch top kayakers from around the nation dash down the falls and compete for the Great Falls Race trophy. RACERS MUST REGISTER ONLINE PRIOR TO 11:59 PM ON THURSDAY, SEPTEMBER 8. THERE WILL BE NO RACE-DAY REGISTRATIONS.
Background: The Great Falls Race was one of the original extreme whitewater competitions, and nearly 30 years later, it will still be one of the most challenging. The premiere event of the Potomac Festival is a sub-60 second sprint down through the powerful cataracts dropping nearly 60 vertical feet. Only experts may compete, but the entire paddling community is welcome to watch and volunteer.
2016 Results
RACER
CLASS
SLALOM
RANK
CLASSIC QUALIF.
CLASSIC FINALS
RANK
Geoff Calhoun
K1M
84.50
3
62.21
56.51
1
Bryan Kirk
K1M
81.12
1
61.46
59.31
2
Pat Keller
K1M
89.00
10
63.24
59.55
3
Aaron Mann
K1M
DNS
62.45
59.68
4
Jason Beakes
K1M
84.50
3
62.30
60.65
5
Danny Stock
K1M
85.00
5
62.46
61.43
6
Scott Mann
K1M
93.12
14
60.93
61.49
7
Ian Van Wingert
K1M
94.00
15
60.94
61.87
8
Wyatt Hyndman
K1M
85.12
6
60.93
62.81
9
Hunter Cooper
K1M
101.06
20
63.27
66.50
10
Brad McMillan
K1M
92.06
12
63.67
11
Andrew McEwan
K1M
85.31
7
63.98
12
Bobby Miller
K1M
98.00
19
64.05
13
Cooper Sallade
K1M
112.50
28
65.05
14
Tyler Uthus
K1M
84.00
2
66.44
15
Nic Williams
K1M
96.10
18
67.06
16
Toby McDermott
K1M
DNS
67.10
17
Jordan Poffenberger
*C1M
132.25
31 (2)
67.17
18 (1)
Steven McKone
K1M
101.44
22
67.46
19
Julio Danger Krinsky
K1M
DNS
68.32
20
Seth Chappelle
*C1M
101.31
21 (1)
68.39
21 (2)
Robert Ben Gordon
K1M
111.06
27
68.50
22
George Boss
K1M
94.50
16
69.11
23
Mathys Huvelin
K1M
86.12
8
69.20
24
Scott Parsons
K1M
92.00
11
69.99
25
Isaac Hull
K1M
DNS
70.24
26
Collin Swan
K1M
92.62
13
70.33
27
Brett Mayer
K1M
109.19
26
70.94
28
Wade Harrison
K1M
DNS
71.18
29
Andrew Hiltbrand
K1M
DNS
71.24
30
Taylor Pittman
K1M
95.31
17
71.63
31
Micheal McWhirter
K1M
105.56
25
71.78
32
Thomas Franco
K1M
DNS
72.30
33
Jake Greenbaum
K1M
88.00
9
72.33
34
Rich Hardy
K1M
DNS
72.70
35
Jacob Siegle
K1M
102.12
23
73.55
36
Connor Laird
K1M
104.00
24
75.62
37
Erin Savage
*K1W
DNS
78.12
38
Paul Golub
K1M
122.02
30
80.00
39
Danny Kaufman
K1M
DNS
80.19
40
Eric Hanson
K1M
DNF
80.37
41
Moriah Heaney
*K1W
213.00
32 (1)
83.31
42 (1)
Mike Connolly
K1M
DNS
95.00
43
Matthew Hanson
K1M
113.00
29
DNS
Race Types:
CLASSIC - Downriver race. The Great Falls Race demands a paddler to be steady yet dynamic and can reward or punish a racer for choosing an aggressive line. A section of the Falls will be chosen for the race based on our Water Levels Chart and common consensus. Competitors will be allowed 1 race run in their fast boat of choice, and the top 10 times will qualify for the Finals. The fastest Finals run wins the Cup!
SLALOM - The local kayaking community has long blended slalom moves in Class V whitewater. So, based on our 2015 success, the Potomac Festival will once again have a judged slalom event in addition to the classic downriver race. The slalom course will be 2-5 gates, buoys, mandatory channels, and rock touches. Race staff will set the course during the week of the event, dictated by water levels to showcase the best moves on the river and reward the most adaptable technical paddlers in 8-9 foot creek boats.
Categories:
Classic
Classic - Women's Kayak (K1) (all boat lengths)
Classic - Men's Kayak (K1) (all boat lengths)
Classic - Canoe (C1) (Women & Men, all boat lengths)
Handpaddle (Women & Men, all boat lengths)
Duo (Women & Men, all boat lengths)
Slalom
Slalom - Women (K1/C1, all boat lengths)
Slalom - Men (K1/C1, all boat lengths)
Race Registration: All participants in the GFR are required to pre-register. Registration will be conducted on-line, outside of the National Parks, and prior to race day. There will be no race-day registration, and no fees collected within the National Parks.
Racer Meeting & Safety Briefing: On the morning of race, the GFR staff will hold a safety staff meeting and racer meeting near the Great Falls Tavern on the Maryland side. At the volunteer meeting, the staff will go over the race course, the start and finish lines, the positioning of safety boats and throw ropes, how to stop the race in case of a problem, and how to contact help in case of emergency. In the racer meeting, the start and finish lines, the rules of the race, any up-to-date safety considerations will be covered.
Racer Skills Assessments: The GFR staff are responsible for determining whether appropriate skill level is present for each racer. As specified on the website, all racers must be able to attest to their experience paddling Class V whitewater, provide a detailed paddling history, and be familiar with the lines on Great Falls. Racers will be screened by the race staff on their capability to adequately paddle and race Great Falls. Each participant's involvement in the race is subject to the race director's approval. If there is any doubt about a racer competing in a safe manner, that racer will not be allowed to enter.
The exact course depends on the water level, but will take place on one of the following:
Center Lines: 3.4-3.79 feet
The Classic start for this complex course is on the Virginia shore (river right) just upstream of the large square slab rock. Racers will ferry left above U-Hole, (the Virginia Lines) and the tip of Flake Island and navigate Grace Under Pressure - the furthest river right entrance drop into the middle channel of the Falls. Racers then navigate the maze of ledges leading to The Fingers. The Fingers is five-channel, 20 foot drop, with some of the channels being trickier than others, so choosing a good line is critical. The finish line will be a rock in a eddy river left of The Fingers near Horseshoe on the Maryland side.

Slalom here would involve an up left below Grace, a mandatory series of moves in the ledges and a drop Angel Hair (Pinky Finger), a very narrow waterfall. If that weren't enough, expect the finish line to be an upstream ferry above a boulder (similar to the 2014 race).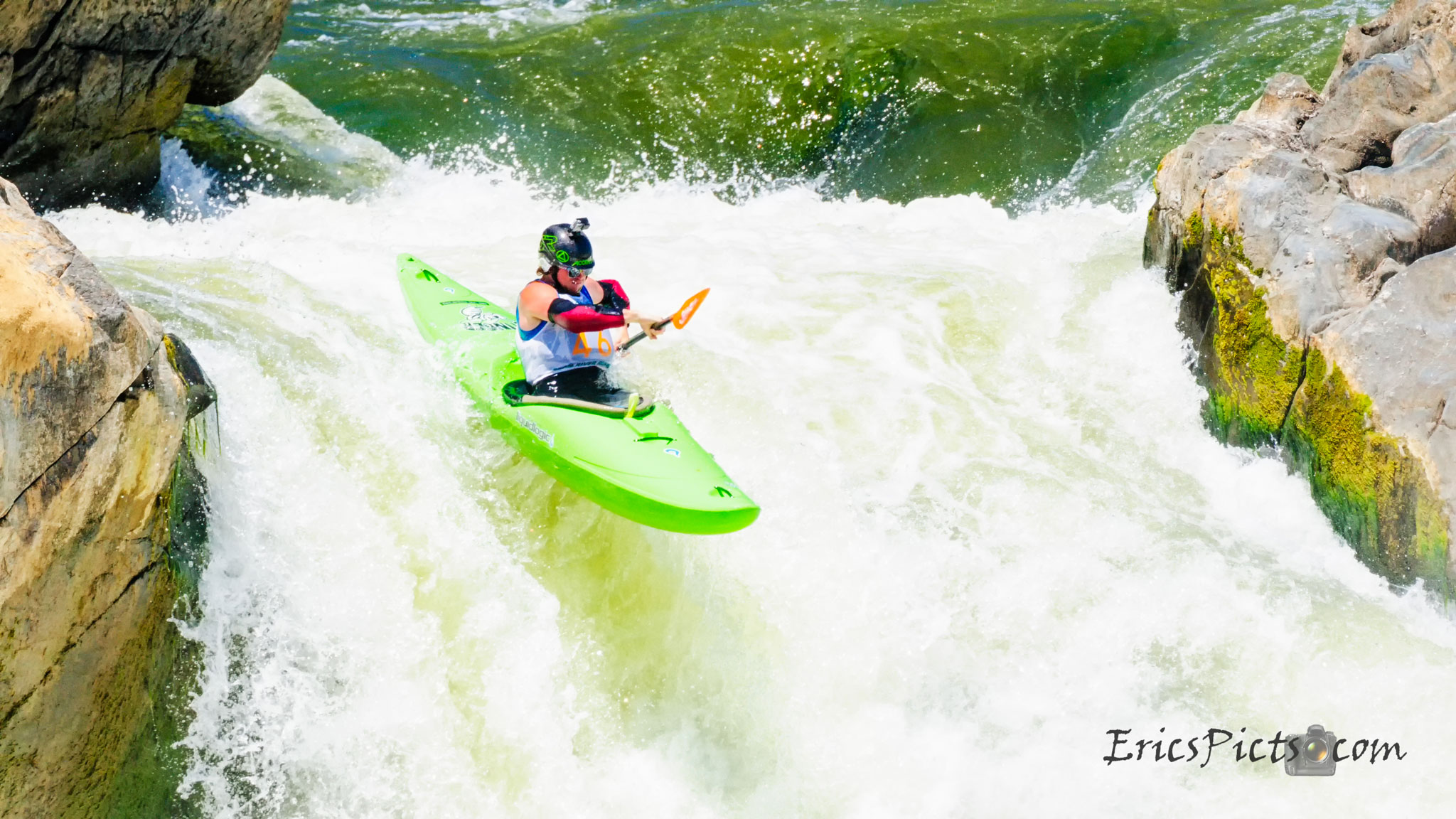 Bridge Channel: 5.0-6.5 feet
This high water line through Olmsted Island starts with one of the steepest drops on the falls, a three tiered slide into a hole. The finish line will be below the Class IV runout, in an eddy at the confluence with the main channel. The format of the race may be simplified or shortened, depending on specific river conditions.
High water > 6.5 feet
The race may move to Mather Gorge if the level is above preferred Great Falls water levels. Start would be in the area of O-Deck and finish would be near/on Rocky Island.
The race may be cancelled if the level is rising rapidly above the preferred race lines, or conditions degrade the safety or integrity of the event.
Recommendations and Notes for Spectators
The final course will determine if it will be possible to view the race from both Great Falls, VA and the Great Falls Overlook, C&O National Historical Park, MD. Check back here the week of the race for a final recommendation. We encourage spectators to view the race from one of the 3 overlooks at Great Falls, VA. There is only one overlook at the C&O National Historical Park (Great Falls, MD)
Plan to arrive early—depending on the number of park visitors and spectators, there can be a line that forms at the entrance to the park. In addition, some of the prime viewing areas fill up quickly.
National Park Fee—There is a $10 fee to enter the park. On sunny days there can be a line to get into the park. Please plan accordingly. Note that, effective June 1st, 2015 the 3 day entrance fee is no longer valid for both the C&O Canal and Great Falls Park, VA so you will need to pay separate entry fees if you plan to visit both parks.